PR and Marketing Compliment Each Other
Award Winning Public Relations Firm Based in Long Beach, California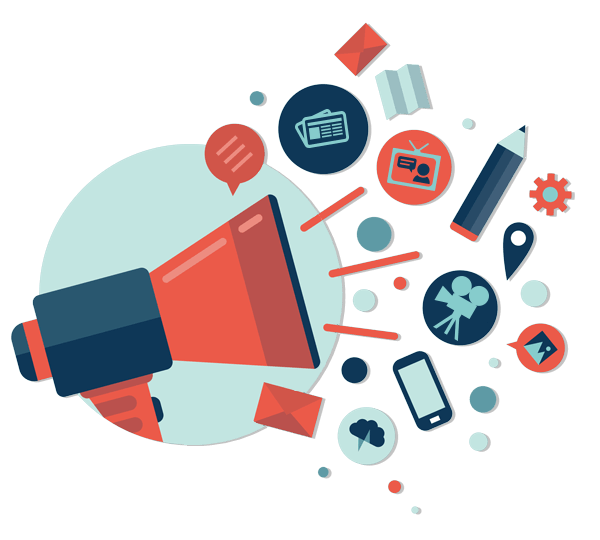 In today's digital world, what constitutes "full service"?
Like the range of our clients, our expanding services are also quite diverse. When we charge beyond the borders of traditional public relations and traditional marketing tactics, we cross into an area that on ancient maps would be a large, white, empty area with the world "UNEXPLORED" emblazoned across it. Advancing into a territory where most PR agencies fear requires one to be armed with an army of creative strategies, branding ideas, video production abilities, social media management, guerrilla tactics, and even some regular, old fashion advertising.
Certainly, charging in the right way and direction will accumulate scads of press. People will regularly book broadcast time with you. The product, person or service will generate massive media buzz for you as our client. In a word, this is our passion—to make you a star! However, we are by nature overachievers. That means we cannot stop there…or as the late night ads scream "But wait! There's more!"
Our experience here at BSG is vast. We are expert storytellers, high level strategists, deep intellectuals, amazing communicators, geeky techies, frightening visionaries, and pop-culture fabricators. We create the millennial market. We move so fast the keyboard here get really melty.
PUBLIC RELATIONS
Shall we start at the beginning? There is a distinct difference between PR and marketing. Marketing aligns with active advertising and sale of a product. Public relations has to do with creating an image for a company or individual. Any media coverage on the company will reflect this image, and this is integral to the field of PR.
As a prime PR and Marketing Firm in Los Angeles Region that has been around the block a few times, BSG truly understands the task of creating an attractive, alluring image. BSG possesses the unique ability to find the best common denominator. This talent ensures our clients will always have their best positioning; earning the public trust, stating the message memorably, and gaining the coverage necessary to create favorable opinion across the spectrum.
BSG media relationships have been cultivated over 13 years. They are the product of the persistence and dedication. As a leading Long Beach and Los Angeles Region PR and Marketing firm, these media contacts know they can trust us to provide them with newsworthy content. That means you…after we have built up your image and branding via public relations. By the time your company has been built up and burnished by our firm they will be thrilled to provide coverage of anything and everything you have got to offer.
MARKETING
Many great products never see the light of day because all products need marketing. There are an abundance of existing products that reach a certain plateau of exposure with marketing, but they never arrive anywhere at their full potential. While this may be due to the administration of a company's affairs, the trust failure probably lies in mediocre marketing strategies that never grasped the full advantage of all available resources.
Blue Sand Group appreciates that each of our clients is a unique and valued partner in an greater venture that we assemble for them. Every campaign is a new and exciting opportunity for BSG to flex our PR & marketing muscle in Long Beach, Los Angeles, and beyond. Every new project is approached with a strategic, think tank intensity. BSG embraces the challenges and advantages inherent with every person, product or service. We thrive when YOU thrive. that is the secret of our success as a vibrant PR & marketing firm in Long Beach and the Los Angeles region. Passion for projects surges through each service, product and client we work with. BSG is renowned for innovative campaigns. Seriously, Blue Sand Group is small but one of the finest PR and marketing agency Long Beach and the Los Angeles Region holds.
METHODOLOGY
SEEING BEYOND THE OBVIOUS
BSG does not observe pop trends and read demographic studies. We create what others follow. We take time to fully understanding the client's product, the market, the best practices and how to ramp it to the top of its respective industry. Our experts know PR & marketing in Long Beach and Los Angeles so well, we can adapt our viewpoint to that of the targeted consumer. We build a campaign both striking and communicative.
CREATING UPWARD
Once initial studies are complete, our marketing team can go to work. Using crucial data, we custom tailor the entire campaign to ensure the message actively conveys your product and enhances its integrity. We have every media platform at our fingertips and use them extensively. With a superb taste and good judgment, BSG produces an optimal outcome. We are small, but clearly the best PR & marketing firms in Long Beach and the Los Angeles region.
LAUNCHING TO A HIGHER LEVEL
Once we launch, the rockets fire up and your campaign goes into orbit. Like a communications satellite it unfolds and deploys all its resources precisely where they need to go and when they need to be operational. BSG specialists are very committed to your PR & marketing success in Los Angeles. Also, we do not rest on our laurels. BSG continually monitors and tweaks to remain ideally effective.
DIRECTING AND MAINTAINING SOCIAL MEDIA MANAGEMENT
Social media is a powerful tool and we utilize it to its fullest capacity. Far from being digital flotsam and jetsam that other agencies might provide, instead, as a top social media group in the regions. We offer a professional, integrative approach across multiple social media platforms with campaigns both comprehensive and effective.
Today, every method of marketing, PR, and communication is essential to success. Social media marketing is an advanced communications method. When harnessed and utilized properly, it offers powerful results. The ability to relay messages directly to the receiver's hand, in real time, is extremely valuable.
Blue Sand Group builds successful social media campaigns by utilizing a vast understanding of trending cultural behaviors and interests. All messages are carefully crafted and reviewed before they are sent. We develop detailed strategies for our social campaigns and execute them flawlessly. W control the message of a brand while engaging potential customers and prospective clients, earning our reputation as a top social media firm in the Long Beach and Los Angeles area.
A strong and comprehensive social media marketing strategy is one of the cornerstones of any marketing or PR campaign. BSG strongly integrates clients and brands with social media buzz.
PROFESSIONAL CRISIS MANAGEMENT
When you are in a jam, dealing rapidly, correctly, comprehensively and objectively with the disaster or crisis immediately is a critical first step in meeting the challenges. Communicating with, and coordinating among, all affected groups and the media is a key element in that process.
BSG is a full-service marketing and public relations firm offering excellent expertise in the specialized area of crisis preparedness, management and communication, containment and recovery.
Call us before a crisis strikes! We work with your internal management to create contingency plans designed to insure a smooth and coordinated response to the public and media. Our experience provides quick and efficient answers. We gather facts and prepare a situation analysis encompassing all relevant issues and options. We identify every potential solution and possible mitigation. BSG builds real action plans targeted to every relevant audience. You will survive this; BSG can assist in way you never realized.
Need Spokespeople? We can communicate with:
senior management
legal and other counsel
technical experts
special interest groups
employees
customers and clients
the general public or others as appropriate segments of it
news media
governmental agencies
labor unions
fire, police and other officials
Call Blue Sand Group right away and change the course of your business towards a new horizon.