Google is well know for driving traffic for many websites. Now with Google's updated knowledge panel, the search engine company can generate traffic to your social media profiles.
It's as simple as telling Google which social media profiles your business uses and the name and the link to it.
Increase Traffic with Social Media Links
Adding social media profiles can significantly increase your business by allowing you to control more of the first page of Google, while increasing the traffic to your other networks. 
Google allows sites such as Instagram, Facebook, Twitter, and LinkedIn to their knowledge panels. The Google algorithm processes the social networks you have chosen to add and then displays the most relevant results.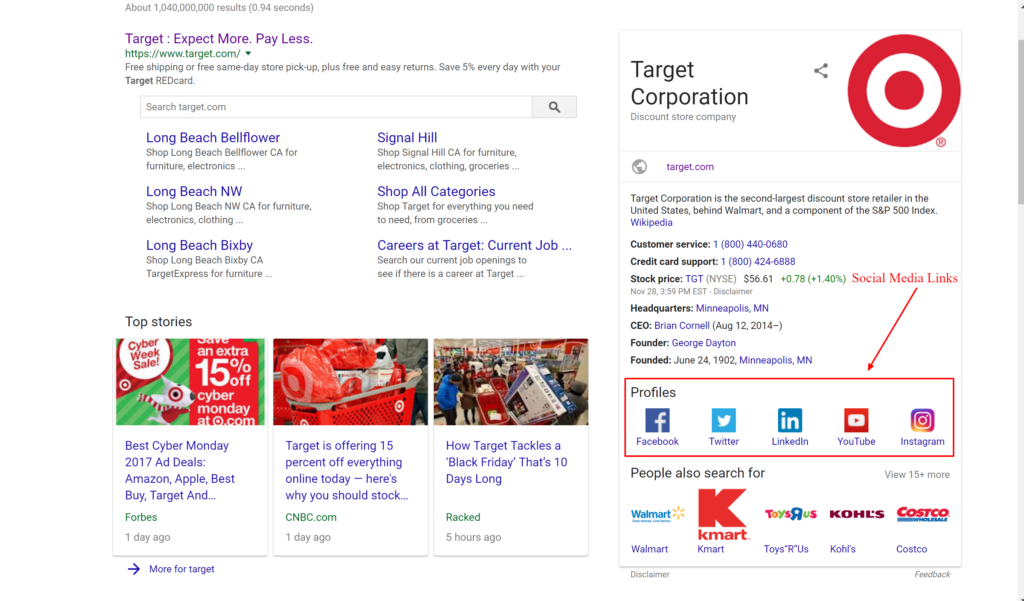 Lets take a look at Target, for example. When you search for this business, you will see their five different social media profiles linked on Google. This gives users easy access to all of the companies latest social media posts.
Social Media Profiles on Google
There are 4 steps on how to add social media profiles to Google.
The first step is creating a structured markup. In a structured markup, you create a list of information that Google will see when it views you site. Secondly, upload your structured data to your homepage.
Once you have created your structured data add it to the site that would be called. After this, make sure to verify that your structure data works with Google's structured data testing tool.
Finally, re-crawl your site on the Google Search Console and submit your website to Google that way it can be indexed properly.
If you follow these steps, then you will start to see your business's social media profiles on search engines.
BSG Structured Data SEO Experts
Don't feel comfortable doing this yourself? That is okay! The SEO experts at Blue Sand Group can make sure that your social media profiles are showing up on Google.